Carbon Capture, Utilization, and Storage (CCS)
As interest in CO2 Capture, Utilization and Storage (CCUS)/ CO2 geosequestration grows around the world, our experienced CO2 EOR and geomechanics consultants are some of the most qualified and experienced professionals available in the industry to help our clients in their CCUS/ CO2 geosequestration projects.
While all the elements of CCUS exist, they have yet to be developed to scale or successfully integrated making it an uncharted territory. The structure and future of the CCUS industry will be shaped by those who have the vision and will to do so, and who possess the knowledge and experience to integrate technology, regulatory structure, and financial incentives into viable projects.
CCUS Project Development and Management
Avasthi & Associates, Inc. is a CCUS project developer. Avasthi Consulting works closely with its oil & gas industry clients by taking care of all technical issues of their planned CCUS projects, while they concentrate on field operational issues, as well as helps its clients in dealing with power plant operators, to procure the CO2 supplies, and with the governmental agencies, to secure the necessary funding and approvals.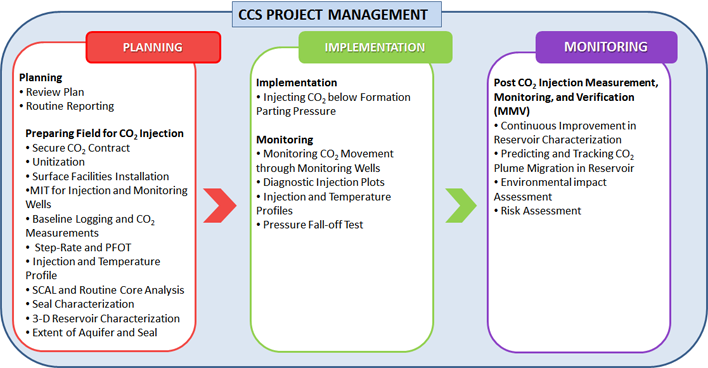 Issues Facing Large-Scale CSUS Implementation
Key Issues
CO2 Capture
Transportation
Storage
CO2 Generation

Cost-effective Capture Technology
Long-term stable carbon price

Reliable, cost-effective pipleline system

CO2 ownership transference
Secure repositories
30-50 year commitments

Financial Underwriters

Financial structures ensuring CCS economic viability
Incentives for "first-of-a-kind" projects

Clarify ownership rights and responsibility of:

Injected CO2
Mineral Rights
Subsurface pore space

Risk Management
Limits on liability (health, environmental, property, financial) risks provided under national, state, or international law
Leakage risk profiles
Leakage risk profiles
Regulations

Enable international carbon trading and ensures the value of emissions allowances

Competition, climate regime commitments, tax policy, financial responsibility, property rights and international treaties

Greenhouse gas (GHG) accounting procedures, and minimum standard for international CCS site

Operating procedures (site selection, injection, and monitoring) will be necessary

Liability of CCS, (distinguish between risks assumed by the operator, and those mitigated through regulation, and those that can be transferred)

Insurance
Cover pollution event liability, business interruption, control of well, transmission liability and geomechanical liability
Cover specified closure and post closure activites
Click on each topic below to read more about it:
Key Technologies
As we look to bring CCUS into full operation in the near future, expertise and in-depth experience in following two key technologies will play a critical role:
Enhanced Oil Recovery (EOR): At this time, CO2 injection to increase oil production is the primary economic driver for successful CCS, helping offset costs of capture technology
Geomechanics: Careful site selection is the single most important way to manage short-term and long-term risks of CCUS (each CCUS project site will be unique requiring methodologies and technologies tailored to the particular circumstances and risks)
Avasthi Consulting teams of high-level and seasoned consultants have more than 30 years of experience working in EOR and geomechanics projects. We are uniquely qualified to plan, design, evaluate and optimize CCUS projects.
CCUS Project Finance and Risk
Investors in wide-scale CCUS implementation want realistic, technically sound and unbiased evaluation of financial opportunity and risk. Simply put, investors want to be certain they are investing in the right people:
Does the management team have a long and successful track record in planning and implementing projects in highly complex and regulated national/ international environments?
Are they proven leaders in emerging technologies?
Do they have the right EOR and geomechanics expertise?
Have they planned adequately for long-term monitoring, measurement and verification (MMV)?
Do they execute efficiently and on-time?
Have they identified and planned for technical, environmental, commercial and operational risks/ uncertainties?
Does the proposed budget represent true cost?
Legal Development and Expert Testimony
The expansion of CCUS will involve a number of legal and regulatory issues associated with protecting public health, safety and the environment, while ensuring permanent CO2 storage. Lawsuits are inevitable, as is the battle of experts who will be called upon to help determine if the technological assumptions underpinning contracts, licensing agreements and regulations are valid or flawed.
A number of regulatory and legal issues currently impede CCUS development, including, but not limited to:
Access rights to geological sites
Surface and sub-surface property rights
Multiple party injection issues
Hydrocarbon and mineral rights
Legacy liability
Managing Risk and Long-term Liability
Long-term security of CO2 storage can only be assured through in-depth geomechanical analysis of all aspects of the site, including its history. A comprehensive strategy for monitoring, measurement and verification (MMV) is required at all phases of a CCUS project to ensure safe transportation, injection and long-term storage of CO2.
Determining the appropriate monitoring techniques in each phase is a key factor for successful geologic storage of CO2, and can provide information to address safety and environmental concerns, and provide verification for national accounting of GHG emissions.
MMV capability will assure the regulators, and other government authorities, who must approve large CCUS projects, by providing confidence in the volumes of CO2 stored to ensure safety, environmental, and commercial viability.
Regulatory Framework
CCUS technology requires an effective framework that includes legal and regulatory templates and guidelines, particularly related to the long-term storage of injected CO2 and must include clear financial incentives for project activities to help overcome the hesitancy of major industry players to expand investment in new CCUS projects. These include, but are not limited to:
Defining and classifying CO2
Access and property rights
Intellectual property rights (IPR)
Monitoring and verification requirements
International legislations to prevent contradictory and overlapping rulings
Property Rights and Liabilities
Access to and property rights for the area in which a CCUS project is undertaken must be defined to encourage investment and properly regulate the storage site.
Property rights determine who has or will have access to a project site and are therefore a crucial aspect of any CCUS project. The three main areas of property rights include:
Surface (injection of the CO2)
Sub-surface (reservoir)
CO2
Because the definition of property rights also influences liability, each must be clearly defined. It is also critical to determine if, when, and how private liability is transferred to the public sector, establish who determines to whom property rights are granted, public and private methods of acquiring the rights, and how to manage the title of the actual CO2.
Avasthi Consulting teams of high-level and seasoned consultants are available to help all stake holders in all aspects of CCS projects.